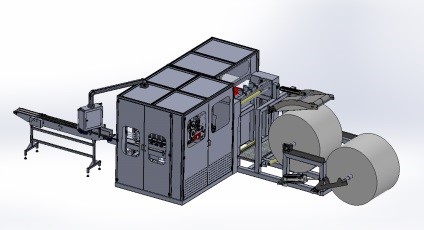 TX1400 AUTOMATIC CROSS FOLD MACHINE

TX1400 is ideal for manufacturing in high speed cosmetic wipes. Mechanical and easy to operate. This machine can make wipes such as makeup remover wipes and travel wipes.
FEATURES
All the conveyor bands are antibacterial. 
Certified by: Public Health Service of Department of Health, Education and Welfare, Washington DC USA, comply with FDA standards 
Rotary cutting system
The construction of the machine is 304 stainless steel 
Products touching surfaces are 316 stainless steel 
Reel changing: Semi-automatic, sensor controlled
Sensor controlled liquid tank
Interlock system on doors 
wetting online with flow meter and actuator valve.
Sensitive liquid dosing system has deviation of less than 1,5%.
| TECHNICAL SPECS | |
| --- | --- |
| Folding | Z Cross Fold |
| Control System | Full servo controlled |
| Folding Type | Mechanical |
| Production Efficiency | 0.9 |
| Number of Lane | 4 |
| Number of Roll Station | 2 |
| Number of Blades | 4 |
| Slitting Station | 1 (4 blades) |
| Substrateubstrate | Spunlace, |
| GSM  | 30 – 80 gsm |
| Liquid dosing | up to 200% |
| Design speed | 1400 wipes/ minute |
| Max Length | 100mm(200 mm unfolded) |
| Max-Min product width | 110mm /55 mm |
| Max-Min Roll width  | 350 mm / 180mm |
| Max. Roll Diameter  | 1200 mm |
| Number of min rolls  | 1 |
| Core diameters  | 76mm |
| Air Pressure | 6-8 Bar |
| Liquid tank | 250 Iitre |
| Servos & Drives  | Sigmatek |
| Control system | PLC |
| Power supply | 380V AC /50 Hz/ 15 Amp/ 20 KWKw |
| Screen | Touch screen |